California academy of sciences diatom collection
The CAS Diatom Collection Web Site is an ongoing project to present taxonomic information, images, records of collections, and references pertaining to diatoms. This work has been supported in part by grants BSR-9017609 and DEB-9505269 from the National Science Foundation.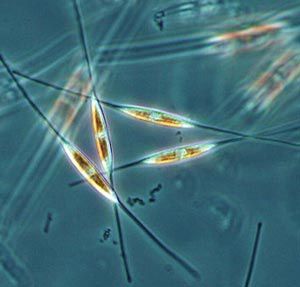 Introduction
Types Catalogue provides information on types in the CAS collection.
Hanna Database provides information on the Specimen, Samples, and Publication tables. The Specimen table contains 75,000 records of specimens that have been identified on slides. The Sample table contains detailed information on 29,000 samples accessioned in the Diatom Collection. The Publication table contains 12,000 bibliographic references.
Hanna Student Fellowship


Diatom identification resources
Currently, the project focuses on recent freshwater diatoms of the United States. In the future, it will include marine and fossil taxa with an expanded geographic range.
Freshwater Diatom Identification and Information Resource includes images, keys, and a variety of collection, literature and distribution information to facilitate our understanding of freshwater diatom biodiversity, systematics, and evolution.
Catalogue of diatoms names 
The Catalogue of Diatom Names is a compilation of names of diatom genera, species and taxa at infraspecific ranks (64,000 names). It has been assembled during the past 12 years by staff at the California Academy of Sciences. It includes all scientific names of diatom genera, species, and taxa at infraspecific ranks, with authorship, date, place of publication, page of description, basionym or replaced name (if applicable), status (valid or invalid), and occasionally type information.


Pour être informé des derniers articles, inscrivez vous :